Appearance and the Transition to Motherhood: An Exploration of Identity Construction among New Mothers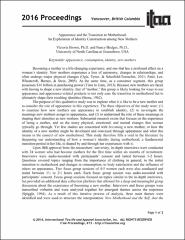 Series
International Textile and Apparel Association (ITAA) Annual Conference Proceedings
The first national meeting of textile and clothing professors took place in Madison, Wisconsin in June 1959. With a mission to advance excellence in education, scholarship and innovation, and their global applications, the International Textile and Apparel Association (ITAA) is a professional and educational association of scholars, educators, and students in the textile, apparel, and merchandising disciplines in higher education.
This site provides free, public access to the ITAA annual conference proceedings beginning in 2015. Previous proceedings can be found by following the "Additional ITAA Proceedings" link on the left sidebar of this page.
Abstract
Becoming a mother is a life-changing experience, and one that has a profound effect on a woman's identity. The purpose of this qualitative study was to explore what it is like to be a new mother and to consider the role of appearance in this experience. Twenty-four in-depth interviews and two focus groups were conducted with first time, biological mothers to understand the experience of becoming a mother. Three themes were identified and were used to structure the interpretation: New Motherhood and the Self, Just the Two of Us, and Me, Baby, and the World. Findings offer important managerial implications, such as the importance of offering this consumer segment clothing that is comfortable, stylish, and conducive to a new mother's needs. Further inquiry into the relationship between new motherhood, appearance, and identity is needed, as it will continue to shed light on how women experience this incredibly transformative journey.
Collections