Fuel Tracer Laser-induced Fluorescence for Droplet Liquid-Vapor Visualization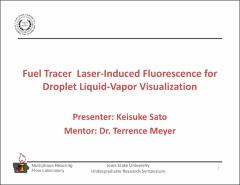 Series
Symposium on Undergraduate Research and Creative Expression
The Symposium provides undergraduates from all academic disciplines with an opportunity to share their research with the university community and other guests through conference-style oral presentations. The Symposium represents part of a larger effort of Iowa State University to enhance, support, and celebrate undergraduate research activity.
Though coordinated by the University Honors Program, all undergraduate students are eligible and encouraged to participate in the Symposium. Undergraduates conducting research but not yet ready to present their work are encouraged to attend the Symposium to learn about the presentation process and students not currently involved in research are encouraged to attend the Symposium to learn about the broad range of undergraduate research activities that are taking place at ISU.
The first Symposium was held in April 2007. The 39 students who presented research and their mentors collectively represented all of ISU's Colleges: Agriculture and Life Sciences, Business, Design, Engineering, Human Sciences, Liberal Arts and Sciences, Veterinary Medicine, and the Graduate College. The event has grown to regularly include more than 100 students presenting on topics that span the broad range of disciplines studied at ISU.
Abstract
In order to understand the fuel droplet vaporization process in engine cycles, measurements of the local concentration of fuel vapor in high temperature and pressure environments are required. To achieve this, planar laser-induced fluorescence (PLIF) of well-characterized tracer molecules are used to track the local fuel vapor concentration. For many tracer molecules of interest, there is a strong quenching effect of local oxygen. This work aims to control and determine the quenching environment to allow quantitative measurements. For this purpose, a fluid system is designed to vary the amount of dissolved oxygen within the fuel tracer using a pressurized storage vessel. To verify the removal of dissolved oxygen from the tracer molecules, laser-induced measurements of the phosphorescence lifetime of the 'oxygen-free' fuel vapor in nitrogen bath gas is made using the fourth harmonic output of an Nd:YAG laser. A fast-time-gated ICCD camera is used to take images and determine both the fluorescence and phosphorescence lifetimes with this laser excitation. Ultimately, these techniques will allow measurements of fuel concentration at high temperature and pressure conditions during engine cycles through better understanding of the purge requirements for quenching-free measurements.
Subject Categories
Collections