Fluency in making alternative ideas is the heart of design process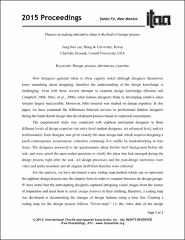 Series
International Textile and Apparel Association (ITAA) Annual Conference Proceedings
The first national meeting of textile and clothing professors took place in Madison, Wisconsin in June 1959. With a mission to advance excellence in education, scholarship and innovation, and their global applications, the International Textile and Apparel Association (ITAA) is a professional and educational association of scholars, educators, and students in the textile, apparel, and merchandising disciplines in higher education.
This site provides free, public access to the ITAA annual conference proceedings beginning in 2015. Previous proceedings can be found by following the "Additional ITAA Proceedings" link on the left sidebar of this page.
Abstract
How designers generate ideas is often vaguely stated although designers themselves know something about designing, therefore the understanding of the design knowledge is challenging. Even with these several attempts to examine design knowledge (Parsons and Campbell, 2004; Petre, el at., 2006), what fashion designers think in developing creative ideas remains largely inaccessible. Moreover, little research was studied on design expertise. In this paper, we have examined the differences between novices to professional fashion designers during the hand-sketch design idea development process based on empirical experiments.
Collections