Developing theoretical thinking skills in dress scholarship: An exercise in relational statement identification and analysis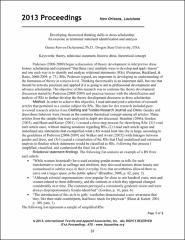 Series
International Textile and Apparel Association (ITAA) Annual Conference Proceedings
The first national meeting of textile and clothing professors took place in Madison, Wisconsin in June 1959. With a mission to advance excellence in education, scholarship and innovation, and their global applications, the International Textile and Apparel Association (ITAA) is a professional and educational association of scholars, educators, and students in the textile, apparel, and merchandising disciplines in higher education.
This site provides free, public access to the ITAA annual conference proceedings beginning in 2015. Previous proceedings can be found by following the "Additional ITAA Proceedings" link on the left sidebar of this page.
Abstract
Pedersen (2008-2009) began a discussion of theory development in interpretive dress history scholarship and explained "that there [are] multiple ways to develop and apply theory" and one such way is to identify and analyze relational statements (RSs) (Pedersen, Buckland, & Bates, 2008-2009, p. 73). RSs, Pedersen argued, are important in developing an understanding of the formation of theory at a micro-level. Thinking theoretically is an important skill, but one that should be actively practiced and applied if it is going to aid in professional development and advance scholarship.
Subject Categories
Collections