The developing role of the university library as a student learning commons: Implications to the interior spaces within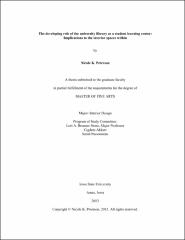 Altmetrics
Abstract
The university library has developed into a center of learning and collaboration that can truly become the heart of campus within the university community (Hisle, 2005). Third places are "public places on neutral ground where people can gather and interact. The character of a third place is determined most of all by its regular clientele and is marked by a playful mood, which contrasts with people's more serious involvement in other spheres" (Oldenburg, 1989). The library is neither home nor work, but a "third place" for students to study and socialize (Codispoti and Frey, 2007).
Recent trends in the design and renovation of libraries concentrate principally on the library as place, and as a social space (Bisbrouck et al., 2004). The third place role of the library has led the design of the physical environment to include a café, collaborative areas to gather and interact, and large open spaces in lieu of small study rooms (Hisle, 2005).
How do university students currently use the library? Do students primarily use the library to gather and interact, or are they using it to learn as in the suggestive traditional role of the library? How can students' perceptions of an ideal study environment be integrated into the design of a library to better support a learning environment?
A case study of a main library at a midwestern university was used to examine these research questions. Observation of three study areas within the library was conducted, including individual study workstations, group study area, and student learning commons. An undergraduate student survey was used to engage users of the space and recognize how they use the library. Additionally, images boards and a card sort were used to identify common factors in student ideal study environments. The analysis from this mixed method approach was used to reveal how students use the study spaces in the library and how the interior spaces of the university library can be designed to respond to student behaviors and preferences.
Student survey results revealed that students value the library and use the library as a study space. The most significant finding was that 63 percent of survey respondents stated the main reason they choose to study at the library is for quiet study space. This finding is in opposition to the literature on the library as a social space (Codispoti and Frey, 2007). While we are designing libraries to foster collaboration, we must also maintain the notion that libraries should provide patrons with a welcoming and comfortable quiet study environment that promotes prolonged use.
Subject Categories
Copyright
Tue Jan 01 00:00:00 UTC 2013
Collections