Using Young Adult Literature to Explore the Causes and Impact of Teen Violence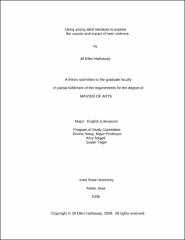 Altmetrics
Abstract
This project addresses the use of young adult literature in the classroom to teach about teen violence. The research questions addressed are:
1. How is violence depicted in young adult literature from post-Columbine (1999) to present day (2009)?
2. How does young adult literature attempt to inform teens about the causes, effects, and warning signs of violence?
3. How do real students respond to the causes, effects, and warning signs of teen violence in young adult literature?
The study was conducted in a class of 10th grade Honors English students, who formed six literature circles to read six recent young adult books that addressed teen violence. A variety of qualitative data was collected, including interviews, journal entries, essays, and group presentations. The two major findings were that students could identify causes, warning signs, and effects of teen violence in their books, and they said they now recognize the hazards of bullying.
Subject Categories
Copyright
Thu Jan 01 00:00:00 UTC 2009
Collections