Transmission Scanning Acoustic Microscopy for Tilted Plate Specimens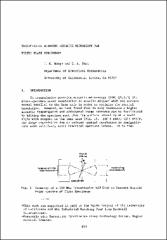 Series
Review of Progress in Quantitative Nondestructive Evaluation
Begun in 1973, the Review of Progress in Quantitative Nondestructive Evaluation (QNDE) is the premier international NDE meeting designed to provide an interface between research and early engineering through the presentation of current ideas and results focused on facilitating a rapid transfer to engineering development.
This site provides free, public access to papers presented at the annual QNDE conference between 1983 and 1999, and abstracts for papers presented at the conference since 2001.
Abstract
In transmission scanning acoustic microscopy (SAM) [1,2,3] the plate-specimen under examination is usually aligned with its surface normal parallel to the lens axis in order to optimize the spatial resolution. However, we have found that in many instances a higher acoustic transmission and additional image contents can be facilitated by tilting the specimen such that its surface normal is at a small angle with respect to the lens axis (Fig. 1). For a small tilt angle, the image degradation due to reduced spatial resolution is insignificant with relatively small numerical aperture lenses.
Subject Categories
Copyright
Tue Jan 01 00:00:00 UTC 1985
Collections