A qualitative exploration of female Harley-Davidson apparel wearer's symbolic expression of identities through dress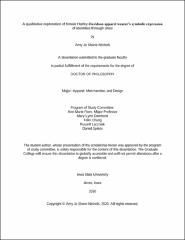 Altmetrics
Department
Apparel, Events and Hospitality Management
Abstract
The purpose of this qualitative study was to understand the potential role of Harley branded apparel in defining and expressing the self-identity of female participants within the Harley community. In addition, I explored the potential role of the Harley branded community in shaping identity of the women.
To achieve this goal, a grounded theory approach was used. Twenty-three women who resided in central Iowa were recruited for this study through purposive and snowball sampling strategies. All of the participants owned and wore Harley branded apparel items. The ages of the participants ranged from 33 to 65, with an average age of 52. All self-reported as being White. Fifteen of the participants operated their own motorcycle, and eight rode as passengers. The number of years that a participant had been riding motorcycles as operators or passengers ranged from 1 to 45 years, with an average of 13 years.
Data for this study was collected through face-to-face interviews, which lasted approximately two hours and were conducted in a private home or in a meeting room at a local library. The interviews were conducted using a semi-structured approach. In addition to the interview questions, the technique of photo elicitation, or interviewing with photographs was also employed.
Several existing theories proved useful in understanding patterns in the data. Analysis of the results benefitted from identity and social identity theories, as well as, symbolic interaction, symbolic consumption, and self-image congruity, which stem from social identity theory. Post-post modernism and feminist concepts were also employed. Based on analysis of the participants' responses to interview questions, four key themes emerged from the data: Harley business strategies, experiential aspects of consumption, social and relational aspects of consumption, and social roles and personal identity.
The first theme that emerged from the analysis of the data centered on the Harley-Davidson Motor Company. Harley dealerships are not only a place to sell products, they are also a place where the company can connect with customers and build relationships that can enhance customer loyalty. The interviewed women were extremely brand loyal. Participants attributed their brand loyalty to the motorcycles, the brand/company's image, camaraderie among employees and customers, and consumption experiences.
The second theme focused on the experiential benefits of riding. Although understanding the experiential benefits women gained from consumption of the motorcycle and apparel products was not a goal of the study, this topic permeated the conversations with participants. The social and relational aspects of consumption were the most frequently mentioned and sought-after benefit from riding and wearing the apparel. The women also enjoyed the freedom that motorcycling provided. They enjoyed being able to relax and "check out" from their daily responsibilities and enjoy "me time." The second most mentioned experiential aspect of consumption was sensory stimulation and the sense of connection to nature when riding on a motorcycle. The women described feeling immersed in the sensory environment of the road. Finally, they talked about the feeling of enjoyment and sense of empowerment that came from learning to ride a motorcycle and/or master a new skill. They had an awareness of the challenges associated with riding and showed immense concern for safety.
The third theme revolved around the concept of community and was a motivator for an individual's behavior. Feeling a sense of connectedness with others was an important aspect of being a part of the Harley community/family. The sub-themes that emerged for this category were organized around the different social contexts and relationships that occur during consumption. Participants experienced feelings of communitas and comradery as a result of engaging in motorcycling related activities and described experiences that included family, friends, significant others, new acquaintances, and cliques. Several of the women gained enjoyment from participating in and volunteering for charity rides/events and local dealership rides/events.
The fourth theme, social roles and personal identity, permeated participants' conversations about Harley apparel. Harley apparel did play a role in the female Harley community. Riding is a part of the women's identity; it is one of the many roles they occupy in society. Marking their identity as a Harley rider with branded clothing helps them express and actualize this identity. The Harley brand is very recognizable; it identifies the women as a motorcycle rider and as a member of the Harley-Davidson/motorcycling community. A majority of the women incorporated Harley apparel into their daily wardrobe and engaged in appearance labor and performativity, as a means to manage their different roles. Wearing Harley apparel and riding motorcycles is an element of their self-definition. Feelings of status, achievement, self-confidence, self-esteem, and an enhanced sense of self were derived from owning and riding a Harley motorcycle and/or wearing Harley apparel. Participants shared behavioral expectations regarding types of apparel worn to motorcycle and non-motorcycle related activities. Finally, participants described body image concerns related to wearing Harley apparel.
It appears that no research had been conducted to understand Harley branded apparel's potential role in defining the identity of female participants within the Harley community. The findings of this study suggest that participants' purchase motivation and brand-related behavior is identity based. Consequently, this research expands previous research by exploring women participants' perspectives regarding Harley brand symbolism and the Harley community. Knowledge gained from this study may be used to better design and market the apparel and may benefit Harley in strengthening market share and company viability. Understanding the motivations influencing women's consumption of Harley branded apparel has practical benefits For Harley and other subcultures of consumption. The Harley SOC represents a unique phenomenon, because it embodies a culture that revolves around the consumption of a luxury item, the motorcycle. Harley branded apparel is unique because it is an extension of the Harley brand. The findings may help Harley to better market its branded apparel line and strengthen riders' brand loyalty. This study may also provide valuable information for other brands, more specifically other lifestyles or luxury brands, and subcultures of consumption. This study also provides information about building identity through a community of consumption, which could be useful for other brands. This study provides an interesting look into a group of women who reflect changing identities and roles of women in society. In addition, this study offers insight into the thoughts of women who may be post-postmodern feminist consumers.
Copyright
Fri May 01 00:00:00 UTC 2020
Collections