Application of NDE to Masonry Structures; Current Technology and Future Needs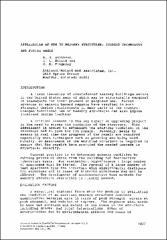 Series
Review of Progress in Quantitative Nondestructive Evaluation
Begun in 1973, the Review of Progress in Quantitative Nondestructive Evaluation (QNDE) is the premier international NDE meeting designed to provide an interface between research and early engineering through the presentation of current ideas and results focused on facilitating a rapid transfer to engineering development.
This site provides free, public access to papers presented at the annual QNDE conference between 1983 and 1999, and abstracts for papers presented at the conference since 2001.
Abstract
A large inventory of unreinforced masonry buildings exists in the United States many of which may be structurally marginal or inadequate for their present or proposed use. Recent advances in seismic hazard mapping have resulted in more stringent design requirements in many parts of the country. Changed functional use of masonry structures can also impose increased design loadings.
Copyright
Mon Jan 01 00:00:00 UTC 1990
Collections