MEMS aptamer sensors for detecting plant chemicals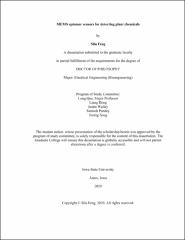 Altmetrics
Department
Electrical and Computer Engineering
Abstract
In this dissertation, the underlying mechanisms of AAO optical sensor simulation and application are described. AAO based optical biosensors were developed for testing theophylline, silicic acid, and a multiplexed device for detecting multiple plant chemical solutions was designed.
Chapter 1 introduces background information about anodic aluminum oxide (AAO), including a basic introduction to the history of AAO development, AAO fabrication, structures, and properties. It also explains the self-ordered nanopore formation mechanism, the optical principles of using Rsoft simulation, and surface functionalization for AAO. Finally, the chapter describes emerging applications in biosensing, bio-detection, and biocompatible interfaces.
Chapter 2 introduces AAO as an aptamer-based nanopore thin film sensor for detecting theophylline in a buffer solution and in complex fluids, including plant extracts and serum samples. Experiments revealed that an aptamer-based sensor has good specificity, selectivity, and reasonable reusability with a significantly improved dynamic- detection range. Its low cost and ease of operation make this type of sensor suitable for point-of-care application to monitoring the theophylline level of patients in real time.
Chapter 3 introduces a structure-switching aptamer-based nanopore thin-film sensor developed for cost-effective, rapid, sensitive and simple detection of SA in both buffer and plant extracts. A high-affinity SA aptamer was identified by immobilizing the SELEX library rather than SA and screening the library using a structure-switching SELEX approach. This nanosensor also exhibited good selectivity among SA and its common metabolites.
Chapter 4 introduces a chip equipped with aptamer-based sensors interfaced with a capillary microfluidic unit suitable for screening and detecting hormones in plant samples. The chip allows samples to be automatically delivered to on-chip sensors without using external pumps, making it suitable for operation in the field or in source- limited settings. Since arrayed sensors can be functionalized with different aptamers specific to different plant hormones, this chip can screen and identify the hormones in unknown samples.
Copyright
Sat Aug 01 00:00:00 UTC 2020
Collections