Seismic Analysis and Design of Precast Concrete Jointed Wall Systems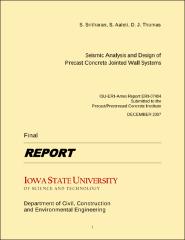 Department
Civil, Construction and Environmental Engineering
Abstract
This report, which was produced as a part of research project undertaken to assist with codification of the jointed precast wall systems designed with unbonded post-tensioning for seismic regions, presents a simplified analysis and a design method for jointed wall systems. Prior to establishing the analysis and design methods, the performance of the jointed wall system included in the PRESSS (PREcast Seismic Structural System) test building is summarized using the test data that has been carefully processed to reflect the suitable initial conditions. Next, results from tests completed on the material and U-shaped flexural plate (UFP) connectors that were used as the primary energy dissipation elements in the PRESSS jointed wall system are presented and a force-displacement response envelope suitable for this connector that may be used in the design if jointed wall systems is recommended.
Section analysis of flexural concrete members designed with jointed connections and unbonded reinforcement cannot be performed using conventional methods because the strain compatibility condition between steel and concrete does not exist at the section level. Therefore, suitable approximations must be made to simplify the design and analysis methods for such members. The simplified analysis procedure presented in this report makes an approximation on variation in the neutral axis depth as a function of the base rotation and enables characterization of jointed wall behavior under monotonic loading. The validation of this analysis procedure is presented using the data from the PRESSS wall system. The applicability of the proposed analysis procedure for single precast walls designed with unbonded post-tensioning is also demonstrated using the wall tests completed at Lehigh University.
Finally, a design methodology is introduced for the jointed precast wall systems, which is also equally applicable to single precast walls that may be designed with unbonded post-tensioning. This design methodology is based on the guidelines originally proposed as part of the PRESSS program with significant enhancements to a number of critical issues. The application of this design method is also demonstrated using design examples.
Subject Categories
Copyright
Mon Jan 01 00:00:00 UTC 2007
Collections