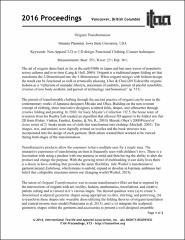 Series
International Textile and Apparel Association (ITAA) Annual Conference Proceedings
The first national meeting of textile and clothing professors took place in Madison, Wisconsin in June 1959. With a mission to advance excellence in education, scholarship and innovation, and their global applications, the International Textile and Apparel Association (ITAA) is a professional and educational association of scholars, educators, and students in the textile, apparel, and merchandising disciplines in higher education.
This site provides free, public access to the ITAA annual conference proceedings beginning in 2015. Previous proceedings can be found by following the "Additional ITAA Proceedings" link on the left sidebar of this page.
Abstract
When origami merges with fashion design, the result can be functional as well as artistically pleasing (Choi & Choi, 2013). The intent of Origami Transformation was to create transformative fiber art that is inspired by the intersections of origami with art, textiles, fashion, mathematics, tessellations, and creative pattern cutting and is viewed in it's various stages. The desired qualities were (a) to create 3-dimentional sculptural geometric shapes using appropriate textiles, stitching, and patterning, (b) to transform these shapes into wearable dress utilizing the folding theories of origami tessellation and conical reverse truss model (Nakayama et al, 2013), and (c) to integrate the sculptural geometric shapes within the garments and accessories to present a well-designed ensemble. Origami Transformation's three collapsible items reflect the usable space available within the two felt sculptures and is intended to be viewed at the beginning and end stages as well as the transformative process itself.
Subject Categories
Collections