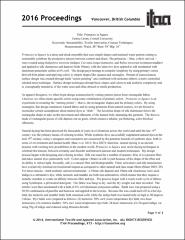 Series
International Textile and Apparel Association (ITAA) Annual Conference Proceedings
The first national meeting of textile and clothing professors took place in Madison, Wisconsin in June 1959. With a mission to advance excellence in education, scholarship and innovation, and their global applications, the International Textile and Apparel Association (ITAA) is a professional and educational association of scholars, educators, and students in the textile, apparel, and merchandising disciplines in higher education.
This site provides free, public access to the ITAA annual conference proceedings beginning in 2015. Previous proceedings can be found by following the "Additional ITAA Proceedings" link on the left sidebar of this page.
Abstract
Primaries in Square is a dress and cloak ensemble that uses simple shapes and minimal-waste pattern cutting to sustainably celebrate the productive tension between control and chaos. The primaries -- blue, yellow and red -- were created using Indigofera tinctoria (indigo), Curcuma longa (turmeric), and Rubia tinctorum (common madder) and applied to silk charmeuse and dupioni (both 19mm), with the latter two dyes applied to silk mordanted with aluminum potassium sulfate at 6% owf. The design pays homage to complex simplicity by using primary colors derived from plants and applying colors to simple shapes like squares and rectangles. Stream of consciousness surface design was created through batikaction painting, and combined with mokume shibori, a more controlled stitched resist technique. Surface design techniques disrupt basic shapes and colors to add aesthetic complexity and to conceptually remind us of the water used and often abused in textile production.
Subject Categories
Collections