Impact of polycystic ovary syndrome on methyl group metabolism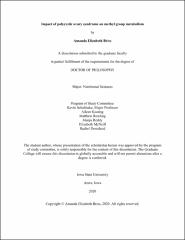 Altmetrics
Department
Food Science and Human Nutrition
Abstract
It is estimated that polycystic ovary syndrome (PCOS) affects one in ten women, making it the most common endocrine disorder among reproductive-aged women. PCOS displays diverse clinical manifestations, such as anovulation, infertility, and hyperandrogenism. Moreover, patients diagnosed with PCOS are at risk of developing comorbidities like obesity, cardiovascular disease, and type 2 diabetes. Due to the wide array of metabolic consequences, PCOS remains one of the most challenging conditions to diagnose and treat. Recently, evidence has suggested that individuals with PCOS exhibit nutritional deficits in serum folate and vitamin B12 concentrations. Emerging evidence also indicates that PCOS, similar to other metabolic conditions, leads to the imbalance of methyl groups. These nutritional deficiencies may lead to compensatory hyperhomocysteinemia, a medical condition that has been deemed significant in patients with PCOS. Methyl group metabolism is an essential biological system, whereby three interrelated pathways work in concert to maintain homocysteine concentrations and methyl group supply. The comprehensive system utilizes substrates and cofactors, such as choline, methionine, folate, B12, B6, and B2, to support homocysteine homeostasis. The etiology of PCOS remains inconclusive, but evidence supports the idea of perturbed methyl group metabolism. The objective of the studies described in the central part of this dissertation is to characterize methyl group metabolism as a function of the progression of polycystic ovary syndrome in 1) letrozole-induced PCOS Sprague Dawley rats and 2) genetic mouse model of PCOS.
The first study described in this dissertation examined the impact of letrozole, a chemical aromatase inhibitor, treatment on the development of PCOS-related downstream effects of ovarian methyl group metabolism outcomes. Female Sprague Dawley rats (n = 36) were randomly assigned to letrozole or vehicle carboxymethylcellulose via a surgically implanted subcutaneous slow-release bead every 30 days. All animals were randomized to be euthanized at the time of proestrus at either 8, 16, or 24 wk of age. Letrozole-induced rats exhibited elevated body weight gain immediately upon letrozole exposure and throughout the study (P<0.0001). Moreover, letrozole exposure perturbed estrous cyclicity, with decreased time spent in proestrus (P<0.0001) accompanied by elevated serum testosterone concentrations. Interestingly, inhibition of aromatase led to diminished ovarian cystathionine β-synthase (Cbs) transcript abundance by 59% at 16 wk of age (P<0.05) and 77% by 24 wk of age (P<0.01). Additionally, CBS protein abundance was 32% lower in the ovary of letrozole-induced rats at 8 wk of age (P = 0.02). When testing as a function of age, betaine-homocysteine S-methyltransferase (Bhmt) transcript abundance increased exclusively in letrozole-induced rats (P = 0.03). These data support the idea that the transsulfuration pathway, involving CBS enzymatic activity in the ovary, is perturbed as a function of time in a chemically-induced model of PCOS.
The second study's objective was to determine the effects of a metabolically compromised mouse model of PCOS, using the agouti lethal yellow mouse. Canonically, agouti mice display early adult-onset of obesity, type 2 diabetes, and infertility. Five wk old female lethal yellow agouti mice (KK.CG-Ay/J; agouti; n = 18), and their wild type (WT) controls (a/a; n = 18), were aged out to 8, 16, or 24 wk, then euthanized at the time of proestrus. All acyclic mice (24 wk old agouti mice) were euthanized in the diestrus stage. PCOS was confirmed by elevated serum testosterone concentrations, which were significantly higher at 16 and 24 wk of age (P<0.05). A 4.6-fold increase in ovarian Bhmt transcript abundance was observed in 8 wk old agouti mice; whereas, a 27% decrease in hepatic Bhmt transcript abundance. No differences in Bhmt was observed at any other experimental time point. There was a trend for decreased hepatic BHMT protein abundance in 8 wk old agouti mice. By 16 wk of age, we observed a 44% reduction in ovarian glycine N-methyltransferase (Gnmt) transcript abundance, along with a 33% reduction in hepatic Gnmt at 24 wk old agouti mice was detected. This was not a supported finding at any other stage of PCOS.
Collectively, the studies described in this dissertation demonstrate that potential mechanisms involved in the pathogenesis of PCOS may be due to the transient response in BHMT and CBS-mediated methyl group metabolism pathways. Furthermore, decreased expression of these two enzymes indicates increased demand for methyl groups in the ovary, potentially revealing shifts in methyl group/one-carbon metabolism contributing to the pathogenesis of PCOS. Future nutrition intervention studies are being employed to determine whether dietary methyl groups support the aberrations in methyl group metabolism observed in the early onset of PCOS in both the chemically-induced and genetic rodent PCOS models.
Copyright
Tue Dec 01 00:00:00 UTC 2020
Collections