Numerical Electromagnetic Modeling for Three-Dimensional Inspection of Ferrous Metals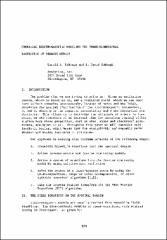 Series
Review of Progress in Quantitative Nondestructive Evaluation
Begun in 1973, the Review of Progress in Quantitative Nondestructive Evaluation (QNDE) is the premier international NDE meeting designed to provide an interface between research and early engineering through the presentation of current ideas and results focused on facilitating a rapid transfer to engineering development.
This site provides free, public access to papers presented at the annual QNDE conference between 1983 and 1999, and abstracts for papers presented at the conference since 2001.
Abstract
The problem that we are trying to solve is: Given an excitation source, which is known to us, and a scattered field, which we can measure (albeit somewhat inaccurately, because of noise and the like), determine the spatial distribution of the electromagnetic parameters, µ, and σ, where µ is the magnetic permeability and σ the electrical conductivity. This allows us to determine the structure of a body in free space, or the structure of an internal flaw (or anomalous region) within a given body whose properties, such as size, shape and electrical parameters, are known to us. Throughout this paper we will consider only isotropic bodies, which means that the conductivity and magnetic permeability are scalar functions of positions.
Subject Categories
Copyright
Tue Jan 01 00:00:00 UTC 1985
Collections