Women and the Welfare Rights Movement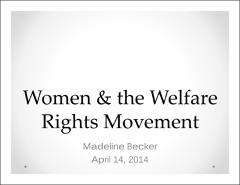 Series
Symposium on Undergraduate Research and Creative Expression
The Symposium provides undergraduates from all academic disciplines with an opportunity to share their research with the university community and other guests through conference-style oral presentations. The Symposium represents part of a larger effort of Iowa State University to enhance, support, and celebrate undergraduate research activity.
Though coordinated by the University Honors Program, all undergraduate students are eligible and encouraged to participate in the Symposium. Undergraduates conducting research but not yet ready to present their work are encouraged to attend the Symposium to learn about the presentation process and students not currently involved in research are encouraged to attend the Symposium to learn about the broad range of undergraduate research activities that are taking place at ISU.
The first Symposium was held in April 2007. The 39 students who presented research and their mentors collectively represented all of ISU's Colleges: Agriculture and Life Sciences, Business, Design, Engineering, Human Sciences, Liberal Arts and Sciences, Veterinary Medicine, and the Graduate College. The event has grown to regularly include more than 100 students presenting on topics that span the broad range of disciplines studied at ISU.
Abstract
What can the Welfare Rights Movement tell us about gender relations in the United States in the late twentieth century? Welfare, defined by the U.S. National Women's Agenda, became a "women's issue" in the late 1970s. But who were the women responsible for giving welfare a feminine connotation?
The Welfare Rights movement is a remarkable, yet overlooked, social protest in American history. Dominated by poor, African American women, the movement played an interesting role in the changing perceptions of gender and poverty in the U.S.
My research will study the movement's origins, the growing politicization of its female members, and the hostile reaction of an increasingly conservative government structure of the 1970s. I will also study the contradictions of the movement, such as its reliance on male leadership, despite its feminine rhetoric, and how such contradictions undermined potential alliances with other feminist organizations.
The National Welfare Rights Organization filed for bankruptcy in 1975 and failed to achieve many of its goals. Still, the movement had a profound impact on women in America. By completing this research, I hope to give a voice to these overlooked women and gain a deeper appreciation of the battles they fought against poverty and sexism.
Subject Categories
Collections