Some Inversion Problems in Nondestructive Evaluation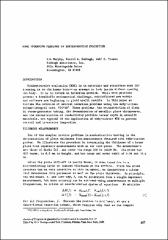 Series
Review of Progress in Quantitative Nondestructive Evaluation
Begun in 1973, the Review of Progress in Quantitative Nondestructive Evaluation (QNDE) is the premier international NDE meeting designed to provide an interface between research and early engineering through the presentation of current ideas and results focused on facilitating a rapid transfer to engineering development.
This site provides free, public access to papers presented at the annual QNDE conference between 1983 and 1999, and abstracts for papers presented at the conference since 2001.
Abstract
Nondestructive evaluation (NDE) is to materials and structures what CAT scanning is to the human body---an attempt to look inside without opening the body. It is in nature an inversion problem. While such problems present a formidable mathematical challenge, sophisticated new models and software are beginning to yield useful results. In this paper we discuss the solution of several inversion problems using the eddy-current volume-integral code, VIC-3D1. These problems, the reconstruction of flaws in steam-generator tubing, the determination of metallic plate thicknesses, and the reconstruction of conductivity profiles versus depth in metallic materials, are typical of the application of eddy-current NDE to process control and in-service inspection.
Subject Categories
Copyright
Sun Jan 01 00:00:00 UTC 1995
Collections