Ultrasonic NDE of Adhesive Metal to Metal Bond Integrity Based on a Combined Numerical and Expert System Approach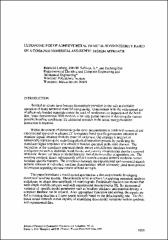 Series
Review of Progress in Quantitative Nondestructive Evaluation
Begun in 1973, the Review of Progress in Quantitative Nondestructive Evaluation (QNDE) is the premier international NDE meeting designed to provide an interface between research and early engineering through the presentation of current ideas and results focused on facilitating a rapid transfer to engineering development.
This site provides free, public access to papers presented at the annual QNDE conference between 1983 and 1999, and abstracts for papers presented at the conference since 2001.
Abstract
Bonded structures have become increasingly prevalent in the safe and reliable operation of many advanced material components. Concomitant with the wide-spread use of adhesively bonded materials comes the need of nondestructive inspection of the bond line. Since conventional NDE methods offer only partial success in detecting the various possible bondline conditions [1], additional research in the actual energy/bondline interaction is required.
Subject Categories
Copyright
Fri Jan 01 00:00:00 UTC 1993
Collections