Wavelet Expansions in Volume Integral Method of Eddy-Current Modeling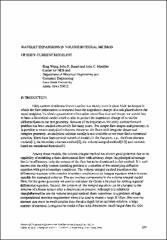 Series
Review of Progress in Quantitative Nondestructive Evaluation
Begun in 1973, the Review of Progress in Quantitative Nondestructive Evaluation (QNDE) is the premier international NDE meeting designed to provide an interface between research and early engineering through the presentation of current ideas and results focused on facilitating a rapid transfer to engineering development.
This site provides free, public access to papers presented at the annual QNDE conference between 1983 and 1999, and abstracts for papers presented at the conference since 2001.
Abstract
Eddy current nondestructive evaluation is a widely used in-plant NDE technique in which the flaw information is extracted from the impedance change of a coil placed above the metal testpiece. To obtain quantitative information about flaw size and shape, we would like to have a theoretical model which is able to predict the impedance change of a coil for different flaws in the test geometry. Because of its importance, this eddy current forward problem has been studied extensively for many years. For simple flaw shapes and geometry, it is possible to obtain analytical solutions. However, for flaws with irregular shapes and complex geometry, an analytical solution usually is not available so we must find a numerical solution. There have been several numerical models in the literature, e.g., the finite element method[l], the boundary element method[2], the volume integral method[3–5] and methods based on variational formulas[6].
Subject Categories
Copyright
Mon Jan 01 00:00:00 UTC 1996
Collections