Developing a Trend Analysis Instrument to Establish a Taxonomy of Digital Textile Printing Attributes for Costume and Theatrical Fashion Design Use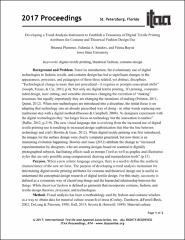 Series
International Textile and Apparel Association (ITAA) Annual Conference Proceedings
The first national meeting of textile and clothing professors took place in Madison, Wisconsin in June 1959. With a mission to advance excellence in education, scholarship and innovation, and their global applications, the International Textile and Apparel Association (ITAA) is a professional and educational association of scholars, educators, and students in the textile, apparel, and merchandising disciplines in higher education.
This site provides free, public access to the ITAA annual conference proceedings beginning in 2015. Previous proceedings can be found by following the "Additional ITAA Proceedings" link on the left sidebar of this page.
Abstract
Since its introduction, the evolutionary use of digital technologies in fashion, textile, and costume design has led to significant changes in the appearances, processes, and pedagogies of these three related, yet distinct, disciplines. "Technological change is more than just procedural – it requires or prompts conceptual shifts" (Joseph, Fraser, & Cie, 2010, p.4). When a new artistic language emerges, there is a need to define the aesthetic characteristics of the new art form. The purpose of developing a trend analysis instrument for determining digital textile printing attributes for costume and theatrical design use is useful to understand the conceptual design research of digital textile design. The trend analysis instrument, after verification and future testing, is potentially useful for any study that involves digital textile printing and can be useful to researchers, educators, and practitioners to further develop the new artistic language that is being formed digital textile printing.
Subject Categories
Collections