How to Reduce Employee Turnover Intention in Retail Environment? Role of Off-the-Job Embeddedness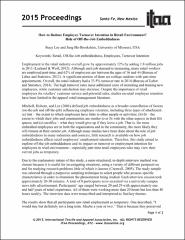 Series
International Textile and Apparel Association (ITAA) Annual Conference Proceedings
The first national meeting of textile and clothing professors took place in Madison, Wisconsin in June 1959. With a mission to advance excellence in education, scholarship and innovation, and their global applications, the International Textile and Apparel Association (ITAA) is a professional and educational association of scholars, educators, and students in the textile, apparel, and merchandising disciplines in higher education.
This site provides free, public access to the ITAA annual conference proceedings beginning in 2015. Previous proceedings can be found by following the "Additional ITAA Proceedings" link on the left sidebar of this page.
Abstract
Although many studies have been done about the role of job embeddedness in many industries and contexts, little research is available on how job embeddedness affects retail employees' employment intention. Therefore, this study aimed to explore off-the-job embeddedness and its impact on turnover or employment intention for employees in retail environment—especially part-time retail employees who may view their current jobs as temporary.
Subject Categories
Collections