Soon You Will Be "Veishea-timing"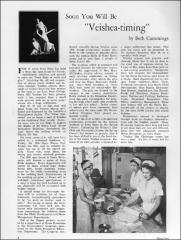 Department
Iowa State University Digital Repository
Abstract
For 17 years Iowa State has held a three-day open house for friends, sweethearts, relatives and parents to come see "Iowa State at work and play." Involving the aid and cooperation of almost every student and faculty member, Veishea attracts thousands of visitors from the four comers of the state to see Iowa State College. Since 1922 Veishea has been growing until it has emerged from a small scale carnival with six or seven major events into a huge celebration.
Subject Categories
Collections