Love Postoperative ECG T-shirt (II)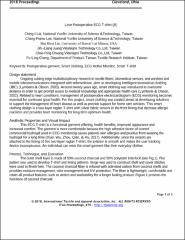 Series
International Textile and Apparel Association (ITAA) Annual Conference Proceedings
The first national meeting of textile and clothing professors took place in Madison, Wisconsin in June 1959. With a mission to advance excellence in education, scholarship and innovation, and their global applications, the International Textile and Apparel Association (ITAA) is a professional and educational association of scholars, educators, and students in the textile, apparel, and merchandising disciplines in higher education.
This site provides free, public access to the ITAA annual conference proceedings beginning in 2015. Previous proceedings can be found by following the "Additional ITAA Proceedings" link on the left sidebar of this page.
Abstract
This ECG T-shirt is a functional garment offering, health benefits, improved appearance and increased comfort. The garment is more comfortable because the high adhesive factor of current commercial hydrogel used in ECG monitoring causes patients skin allergies and pruritus from wearing the hydrogel for a long time. Additionally, since the sensors are attached to the lining of this two-layer raglan T-shirt, the exterior is smooth and makes the user tracking device inconspicuous.
Collections