Determination of Rayleigh and Lamb Wave Velocities in Diamond Films using an Acoustic Microscope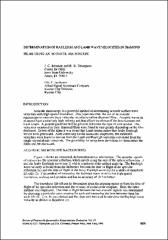 Series
Review of Progress in Quantitative Nondestructive Evaluation
Begun in 1973, the Review of Progress in Quantitative Nondestructive Evaluation (QNDE) is the premier international NDE meeting designed to provide an interface between research and early engineering through the presentation of current ideas and results focused on facilitating a rapid transfer to engineering development.
This site provides free, public access to papers presented at the annual QNDE conference between 1983 and 1999, and abstracts for papers presented at the conference since 2001.
Abstract
Acoustic microscopy is a powerful method of determining acoustic surface wave velocities with high spatial resolution. This paper describes the use of an acoustic microscope to measure these velocities in polycrystalline diamond films. Acoustic waves in diamond have a relatively high velocity and that affects the choice of the lens diameter and focal length. A general guideline will be given to determine the type of lens needed. The velocities measured in three diamond films were found to vary greatly depending on the film thickness. In two of the films it was found that Lamb modes rather than leaky Rayleigh waves were generated. After correcting for the associated dispersion, the measured velocities were found to deviate from the Lamb and Rayleigh velocities calculated from the single crystal elastic constants. The possibility for using these deviations to characterize the films will be discussed.
Copyright
Sun Jan 01 00:00:00 UTC 1995
Collections