An integrated view of entomological and parasitological observations on falciparum malaria in Gambela, Western Ethiopian Lowlands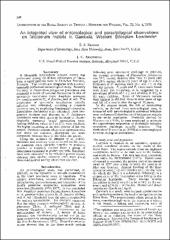 Abstract
A 14-month longitudinal malaria survey was performed among the Nilote inhabitants of Gambela, a small garrison town in Illubabor Province, Ethiopia. The results are integrated with a simultaneously performed entomological study. Monthly variation in Plasmodium falciparum prevalence was primarily a result of seasonal fluctuation in risk of sporozoite inoculation from Anopheles arabiensis (= gambiae species B), A.funestus, and A. nili. The proportion of sporozoite inoculations actually infective was estimated, assuming a constant recovery rate, by employing Macdonald's formulae. Inoculation (incidence) rates calculated from progressive increase and decrease in P. falciparum prevalence were then taken as fractions of entomologically measured 'crude' inoculation rates. Among children, values of 7 to 27% were obtained, the higher occurring in the first quarter of the wet season. Estimates among adults were approximately half those for children, illustrating the more competent immune state of the older age group.
Using the methods of Bekessyet al. (1976), incidence and recovery were estimated on the basis of transition rates (parasite negative to positive; positive to negative) derived from a group of inhabitants examined at 28-day intervals. Incidence rates were estimated to be two-fold greater among children than adults; recovery rates were about three-fold greater among adults than children.
Comments
This article is published as Krafsur, E. S., and J. C. Armstrong. "An integrated view of entomological and parasitological observations on falciparum malaria in Gambela, Western Ethiopian Lowlands." Transactions of the Royal Society of Tropical Medicine and Hygiene 72, no. 4 (1978): 348-356. doi: 10.1016/0035-9203(78)90125-6.
Subject Categories
Collections