The development and implementation of a reverse engineering method for near net shape parts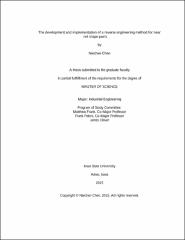 Advisor
Matthew C. Frank
Frank E. Peters
Altmetrics
Department
Industrial and Manufacturing Systems Engineering
Abstract
This research presents a new method for the reverse engineering of Near Net Shape (NNS) parts that bridge the current 3D scanning and Rapid Prototyping technologies. Near Net Shape is a group of manufacturing technologies that includes forging, casting, hot isostatic pressing, and additive manufacturing. This research focuses on casting process and provides a software tool along with the new method for reverse engineering a legacy casting design to the "as was" casted state instead of the "as is" current state, and at the same time, reducing the cost and time for repairing a legacy casting part.
The three main objective for this research is to 1.Create a new reverse engineering method 2.Develop a software tool that is designed for feature free model editing 3.Validate the process through metal casting.
The Point Cloud Library is applied for assisting point cloud processing and feature free model editing. A series of algorithms is developed for draft adding and pattern generation for the process of casting. The Rapid Pattern Manufacturing system developed in Iowa State University, Rapid Manufacturing and Prototyping Lab is applied for pattern manufacturing.
This method is validated to be correct and able to reverse engineer legacy casting parts rapidly and economically through a metal casting process.
The layout of this thesis is as follows: Chapter 1: provides introduction, background, research problem statement and objective of this research. Chapter 2: a literature review for the current reverse engineering method and introduces the modules of point cloud library that are used in this research. Chapter 3: presents the overview of method and algorithms that developed for this method in detail. Chapter 4: presents the implementation of this method and gives the analysis of the demo metal casting process. Chapter 5: provides future work and conclusions.
Subject Categories
Copyright
Thu Jan 01 00:00:00 UTC 2015
Collections