Textile and Apparel Students' Intolerance of Ambiguity in Comparison to Perceived Aptitude for Creativity.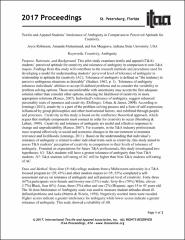 Series
International Textile and Apparel Association (ITAA) Annual Conference Proceedings
The first national meeting of textile and clothing professors took place in Madison, Wisconsin in June 1959. With a mission to advance excellence in education, scholarship and innovation, and their global applications, the International Textile and Apparel Association (ITAA) is a professional and educational association of scholars, educators, and students in the textile, apparel, and merchandising disciplines in higher education.
This site provides free, public access to the ITAA annual conference proceedings beginning in 2015. Previous proceedings can be found by following the "Additional ITAA Proceedings" link on the left sidebar of this page.
Abstract
This pilot study examines textile and apparel (T&A) students' perceived aptitude for creativity and tolerance of ambiguity in comparison to non-T&A majors. Based on the understanding that individual's tolerance of ambiguity is related to other individual traits such as creativity, this study aimed to assess T&A students' perception of creativity in comparison to their levels of tolerance of ambiguity. Founded on expectations for future T&A professionals, this study investigated two hypotheses: H1: T&A students will have a greater tolerance of ambiguity than Non-T&A students. H2: T&A students self-rating of AC will be higher than Non-T&A students self-rating of AC. T&A students' higher tolerance of ambiguity may be an indication of their ability to succeed in the industry, which requires dealing with ill-defined problems. However, a teaching professional must challenge students in developing wider ranges of approaches to problem solving that will enable their creativity-relevant skills and perceptions of abilities.
Subject Categories
Collections