P-glycoprotein drug transporters in the parasitic nematodes Toxocara canis and Parascaris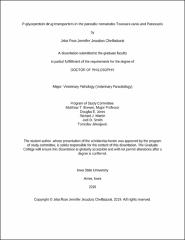 Authors
Jesudoss Chelladurai, Jeba
Abstract
P-glycoproteins (P-gp) are ATP-binding cassette transporters capable of effluxing a wide range of structurally unrelated compounds from cells. Parasitic nematodes express P-gps that have the potential to contribute toward anthelmintic resistance via transport of macrocyclic lactone drugs. This thesis characterizes the expression and function of P-gps from ascarid nematodes. In canines, somatic larvae in bitches are the source of transplacentally transmitted T. canis to neonates. Somatic larvae are tolerant to the macrocyclic lactone (ML) class of anthelmintics. We hypothesized that P-gps may play a role in larval tolerance to MLs. This dissertation sought to identify P-gp expression in T. canis stages and to characterize the unique pharmacology and localization of Pgp-11, which has been implicated in resistance in other nematodes.
13 P-gps were identified in the T. canis genome, of which 10 were found to be expressed in adults and infective larvae. P-gps expression could not be induced in infective larvae treated with MLs in vitro, but Pgp-10 was upregulated in somatic larvae treated with moxidectin in vivo. P-gp mediated efflux in infective larvae could be mitigated by some P-gp inhibitors. T. canis Pgp-11 was heterologously expressed in a canine cell line expressing no endogenous P-gp and could not be inhibited by verapamil, cyclosporine A and reserpine. Pgp-11 was expressed in adult worm intestines but was absent in reproductive tissues.
P-gps have been implicated in ML resistance in the equine nematode Parascaris spp. Pgp-11 and Pgp-16 have been previously described from Parascaris, but the exact localization of their expression was unknown. This dissertation sought to semi-quantitatively determine the localization of Pgp-11 and Pgp-16 mRNA in adult worm tissues using a novel chromogenic in situ hybridization assay.
Subject Categories
Copyright
Sun Dec 01 00:00:00 UTC 2019
Collections