Lea(r) in: Feminism in the Fashion Classroom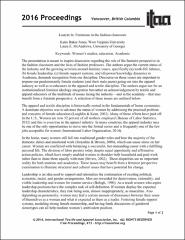 Series
International Textile and Apparel Association (ITAA) Annual Conference Proceedings
The first national meeting of textile and clothing professors took place in Madison, Wisconsin in June 1959. With a mission to advance excellence in education, scholarship and innovation, and their global applications, the International Textile and Apparel Association (ITAA) is a professional and educational association of scholars, educators, and students in the textile, apparel, and merchandising disciplines in higher education.
This site provides free, public access to the ITAA annual conference proceedings beginning in 2015. Previous proceedings can be found by following the "Additional ITAA Proceedings" link on the left sidebar of this page.
Abstract
The presentation is meant to inspire discussion regarding the role of the feminist perspective in the fashion classroom and the lives of fashion professors. The authors argue the current status of the industry and the growing activism around feminist issues, specifically (a) work-life balance, (b) female leadership, (c) female support systems, and (d) power/knowledge dynamics in Academia, demands recognition from our discipline. Discourse on these issues are important to prepare our predominantly female students (and their male peers) going out into the apparel industry as well as to educators in the apparel and textile discipline. The authors argue not for an institutionalized feminist ideology integration but rather an acknowledgement by textile and apparel educators of the multitude of issues facing the industry--and in the academy--that may benefit from a feminist perspective.
Subject Categories
Collections