Measurement of Layered Corrosion with Compton Backscatter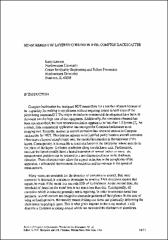 Series
Review of Progress in Quantitative Nondestructive Evaluation
Begun in 1973, the Review of Progress in Quantitative Nondestructive Evaluation (QNDE) is the premier international NDE meeting designed to provide an interface between research and early engineering through the presentation of current ideas and results focused on facilitating a rapid transfer to engineering development.
This site provides free, public access to papers presented at the annual QNDE conference between 1983 and 1999, and abstracts for papers presented at the conference since 2001.
Abstract
Compton backscatter has intrigued NDT researchers for a number of years because of its capability for making x-ray pictures without requiring access to both sides of the piece being examined[l]. The major obstacles to commercial development have been its slowness and the high cost of the equipment. Additionally, the resolution obtained has been circumscribed; the best reported resolution appears to be less than 1.5 lp/mm.[2]. As a result, little commercial application has emerged for Compton backscatter as an imaging tool. Recently, interest in aircraft corrosion has renewed interest in Compton backscatter for NDT. This interest appears to be justified partly because aircraft corrosion often takes a layered morphology; and, the needed information is the thickness of the layers. Consequently, it is possible to trade resolution in the directions whose axes lie in the plane of the layers for better resolution along the thickness axis. Furthermore, because the layers usually have a lateral extension of several inches or more, the measurement problem can be reduced to a one dimensional scan in the thickness direction. These characteristics allow for a great reduction in the complexity of the apparatus, a substantial improvement in resolution and an increase in the speed of measurement.
Subject Categories
Copyright
Fri Jan 01 00:00:00 UTC 1993
Collections