Ultrasonic Inspection, Material Noise and Surface Roughness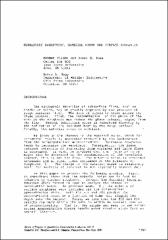 Series
Review of Progress in Quantitative Nondestructive Evaluation
Begun in 1973, the Review of Progress in Quantitative Nondestructive Evaluation (QNDE) is the premier international NDE meeting designed to provide an interface between research and early engineering through the presentation of current ideas and results focused on facilitating a rapid transfer to engineering development.
This site provides free, public access to papers presented at the annual QNDE conference between 1983 and 1999, and abstracts for papers presented at the conference since 2001.
Abstract
The ultrasonic detection of subsurface flaws, such as cracks or voids, may be greatly degraded by the presence of rough surfaces [1,2]. The loss of signal-to-noise arises for three reasons. First, the randomization of the phase of the wave by the roughness may reduce the phase coherent signal from the flaw. Second, additional noise is generated directly by the reflection of the incident beam by the rough surface. Finally, the material noise is modified.
Subject Categories
Copyright
Fri Jan 01 00:00:00 UTC 1993
Collections