CONNECT Project: A global learning experience on sustainability in the fashion industry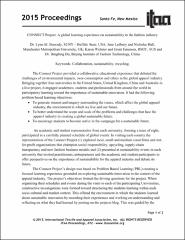 Series
International Textile and Apparel Association (ITAA) Annual Conference Proceedings
The first national meeting of textile and clothing professors took place in Madison, Wisconsin in June 1959. With a mission to advance excellence in education, scholarship and innovation, and their global applications, the International Textile and Apparel Association (ITAA) is a professional and educational association of scholars, educators, and students in the textile, apparel, and merchandising disciplines in higher education.
This site provides free, public access to the ITAA annual conference proceedings beginning in 2015. Previous proceedings can be found by following the "Additional ITAA Proceedings" link on the left sidebar of this page.
Abstract
The Connect Project provided a collaborative educational experience that debated the challenges of environmental impacts, over-consumption and ethics in the global apparel industry. Bringing together four universities in the United States, United Kingdom, China and Australia in a live project, it engaged academics, students and professionals from around the world in participatory learning toward the importance of sustainable innovation.
Subject Categories
Collections