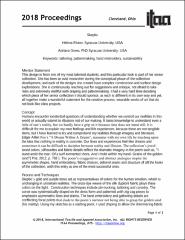 Series
International Textile and Apparel Association (ITAA) Annual Conference Proceedings
The first national meeting of textile and clothing professors took place in Madison, Wisconsin in June 1959. With a mission to advance excellence in education, scholarship and innovation, and their global applications, the International Textile and Apparel Association (ITAA) is a professional and educational association of scholars, educators, and students in the textile, apparel, and merchandising disciplines in higher education.
This site provides free, public access to the ITAA annual conference proceedings beginning in 2015. Previous proceedings can be found by following the "Additional ITAA Proceedings" link on the left sidebar of this page.
Abstract
Humans encounter existential questions of understanding whether we control our realities in this world or actually submit to illusions not of our making. It takes knowledge to understand even a little of one's reality, but we hardly have a grip on it because time does not stand still. It is difficult for me to explain my own feelings and life experiences, because these are not tangible items, but I have learned to try and comprehend my realities through imagery and literature. Edgar Allan Poe's "A Dream Within A Dream", resonates with my own life by touching upon the idea that nothing in reality is concrete. Our lives and experiences feel like dreams and sometimes it can be difficult to decipher between reality and illusion. The collection's jewel-toned colors, silhouettes and fabric details reflect the dramatic imagery in the poem such as, "I stand amid the roar- Of a surf-tormented shore, And I hold within my hand- Grains of the golden sand"( Poe, 2012, p. 768 ). The poem's exaggerative and abstract analogies inspire the asymmetric shapes, hand embroidery, fabric choices, tailored seams and structure of all the looks of the collection, with this entry as one of the most successful ones.
Subject Categories
Collections