Advanced EMAT-Resonant Technique for Assessment of Damage Accumulation and Remaining Life of Crept Stainless Steel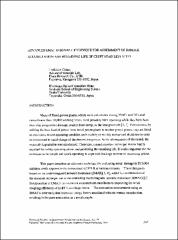 Series
Review of Progress in Quantitative Nondestructive Evaluation
Begun in 1973, the Review of Progress in Quantitative Nondestructive Evaluation (QNDE) is the premier international NDE meeting designed to provide an interface between research and early engineering through the presentation of current ideas and results focused on facilitating a rapid transfer to engineering development.
This site provides free, public access to papers presented at the annual QNDE conference between 1983 and 1999, and abstracts for papers presented at the conference since 2001.
Abstract
Many of fossil power plants, which were constructed during 1960's and 70's and exceed more than 10,000 working hours, have presently been operating while they have been receiving progressive damage, mainly from creep, as the time proceeds. [1, 2] Furthermore, by shifting the base load of power from fossil power plants to nuclear power plants, they are faced to even more severe operating condition such as daily or weekly startup and shutdown in order to correspond to rapid change of the demand for power. As the consequence of this trend, the materials degradation was accelerated. Therefore, a nondestructive technique is now highly required for safely operating plants and predicting the remaining life. It is also important for the technique to be simple and quick-operating to cope with the large number of measuring points.
Copyright
Fri Jan 01 00:00:00 UTC 1999
Collections