New Framework Proposal for Sustainable Textile and Apparel Education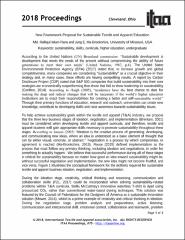 Series
International Textile and Apparel Association (ITAA) Annual Conference Proceedings
The first national meeting of textile and clothing professors took place in Madison, Wisconsin in June 1959. With a mission to advance excellence in education, scholarship and innovation, and their global applications, the International Textile and Apparel Association (ITAA) is a professional and educational association of scholars, educators, and students in the textile, apparel, and merchandising disciplines in higher education.
This site provides free, public access to the ITAA annual conference proceedings beginning in 2015. Previous proceedings can be found by following the "Additional ITAA Proceedings" link on the left sidebar of this page.
Abstract
This paper offers a conceptual framework to address the importance of incorporating ideation, negotiation, and implementation into Textile and Apparel sustainability curricula in a holistic matter in an effort to accomplish true sustainability. As long as professionals think business decisions are separated from sustainability decisions, sustainability goals will be more likely to be considered secondary goals. Therefore, in this model, researchers emphasize that future sustainable T&A business leaders must possess skill sets to navigate intertwined or sometimes often competing interests of economic, social, and environmental goals. An understanding of different required skillsets would help graduates entering the workforce be more adept in design choices, negotiations, and implementation issues while considering financial, social, and environmental bottom lines and goals. Knowledge of sustainability would also help business people incorporate sustainable aspects in each step of a business plan, i.e. ideation, negotiation and implementation, by utilizing appropriate skill sets that this paper proposed.
Subject Categories
Collections