Cadman 5000 W-XL Reel Speedup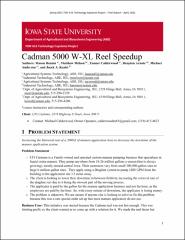 Department
Agricultural and Biosystems Engineering
Abstract
Increasing the Retrieval rate of a 2000 ft of manure application hose to decrease the downtime of the manure application system.
CFI Customs is a Family-owned and operated custom manure pumping business that specializes in liquid swine manure. They pump anywhere from 18-26 million gallons a season (but is always growing), mostly around central Iowa. Their customers vary from small 100,000-gallon sites to large 6-million-gallon sites. They apply using a Dragline system to pump 1200 GPM from the building to the application site 3.5 miles away.
The client is looking to lower their downtime in between fields by increasing the retrieval rate of the dragline reel due to it being the slowest part of the moving process.
The applicator is paid by the gallon for the manure application business and not the hour, as the employees are paid by the hour. So, with every minute of downtime, the applicator is losing money.
The problem is unknown. We are unsure if anyone else is looking to solve or fix this problem because this was a rare special order set up that most manure applicators do not use.
Subject Categories
Collections