Economic evaluation of a farm-to-Special Supplemental Nutrition Programme for Women, Infants and Children intervention promoting vegetable consumption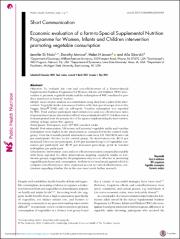 Abstract
Objective: To evaluate the cost and cost-effectiveness of a farm-to-Special Supplemental Nutrition Programme for Women, Infants and Children (WIC) intervention to promote vegetable intake and the redemption of WIC vouchers for produce purchases at farmers' markets.
Design: An economic analysis was undertaken using data from a pilot of the intervention. Vegetable intake was assessed with a reflection spectroscopy device (the Veggie Meter® [VM]) and via self-report. Voucher redemption was reported by WIC. Total and per participant intervention costs and cost-effectiveness ratios (expressed as cost per intervention effect) were estimated in 2019 US dollars over a 6-month period from the perspective of the agency implementing the intervention.
Setting: A large, urban WIC agency.
Participants: Participants were 297 WIC-enrolled adults.
Results: Post-intervention, VM scores, self-reported vegetable intake and voucher redemption were higher in the intervention as compared with the control study group. Over the 6-month period, intervention costs were $31 092 ($194 unit cost per participant). Relative to the control group, the intervention cost $8·10 per increased VM score per participant, $3·85 per increased cup/d of vegetables consumed per participant and $3·29 per increased percentage point in voucher redemption per participant.
Conclusions: Intervention costs and cost-effectiveness ratios compared favourably with those reported for other interventions targeting vegetable intake in low-income groups, suggesting that the programme may be cost effective in promoting vegetable purchases and consumption. As there is no benchmark against which to compare cost-effectiveness ratios expressed as cost per unit of effectiveness, conclusions regarding whether this is the case must await further research.
Comments
This article is published as Di Noia, Jennifer, Dorothy Monica, Helen Jensen, and Alla Sikorskii. "Economic Evaluation of a Farm-to-Special Supplemental Nutrition Program for Women, Infants, and Children (WIC) Intervention Promoting Vegetable Consumption." Public Health Nutrition (2021). doi:10.1017/S1368980021001981. Posted with permission.
Subject Categories
Copyright
Fri Jan 01 00:00:00 UTC 2021
Collections