Numerical simulation of a comprehensive 1-D building energy model and conjugate heat transfer analysis on the internal flow field at the Harran houses in southern Turkey for a brick corbelled internal surface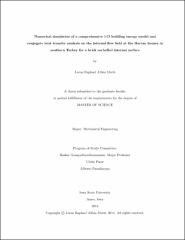 Advisor
Baskar Ganapathysubramanian
Altmetrics
Abstract
Adaptation of vernacular building strategies, such as those encountered in Harran, Turkey could provide agreeable comfortable levels under high ambient temperatures. As widely known, buildings are accounted for consuming approximately 40% primary energy. This research aims to sustain the underlying premise that comfortable temperatures can be reached through natural ventilation. This thesis proposes: [1] the development of a comprehensive 1D building energy model for the Harran house during summer month of July and [2] a flow field analysis to ascertain the impacts of a brick and smooth domed internal surface during the winter month of March.
The motivation of this project lies in understanding how buoyancy and wind-driven natural ventilation coupled with the effects of thermal mass provide agreeable thermal indoor conditions under diverse outside climate conditions of high solar radiation, high wind speeds and low precipitation levels. We develop a building energy model specifically oriented for the Harran houses that take into account the effects of several physical phenomena including: buoyancy and wind driven natural ventilation, thermal mass, short-wave and long-wave radiation, conduction, convection, wind thermal energy, and geometry in a uniform temperature zone. The developed building model, serves as a tool to project how external and internal surface temperatures oscillate based on measured outside air temperature and uniform house temperature. Results show that numerical results reveal proximity to experimental measurements and through sensitivity analysis optimized values for wall thickness and surface roughness are computed based on heat flux.
Along these lines, this thesis assesses the influence of building design parameters in order to optimize comfortable temperatures within the Harran domed houses. Precisely, temperature and velocity fields are studied for a layered open-faced brick dome. The numerical stability and high accuracy of the SST k-omega turbulence model suits well this case study due to the high incoming velocity jets through the dome openings. A computational fluid dynamics (CFD) conjugate-heat transfer case was designed in OpenFOAM based on boundary conditions measured on site. For the purposes of this research, experiments were conducted in a section of a Harran domed house and validated with numerical simulations. Simulations show very close similarities between the numerical and experimental data.
Subject Categories
Copyright
Wed Jan 01 00:00:00 UTC 2014
Collections