The classroom, the campus, and beyond: Using Twitter to connect in #Latinxstudies courses El salón de clases, el recinto y más allá: El uso de Twitter como conexión en los cursos de #Latinxstudies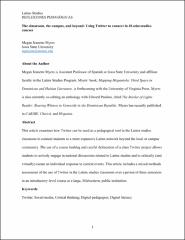 Authors
Publisher
© 2022 Springer Nature Switzerland AG. Part of Springer Nature.
Department
World Languages and Cultures
Abstract
This article examines how Twitter can be used as a pedagogical tool in the Latinx studies classroom to connect students to a more expansive Latinx network beyond the local or campus community. The use of a course hashtag and careful delineation of a class Twitter project allows students to actively engage in national discussions related to Latinx studies and to critically (and virtually) curate an individual response to current events. This article includes a mixed-methods assessment of the use of Twitter in the Latinx studies classroom over a period of three semesters in an introductory-level course at a large, Midwestern, public institution. Resúmen Este artículo examina el uso de Twitter como herramienta pedagógica en el salón de clases de estudios latinos para conectar a los estudiantes a una red latina más extensa que trasciende la comunidad local o universitaria. El uso de un hashtag para el curso y una delineación meticulosa de un proyecto de clase en Twitter permite a los estudiantes participar activamente en discusiones nacionales relacionadas con los estudios latinos y seleccionar de forma crítica (y virtual) una respuesta individual a los sucesos actuales. Este artículo incluye una evaluación, realizada con métodos mixtos, del uso de Twitter en el salón de clase de estudios latinos a lo largo de tres semestres de un curso de nivel introductorio en una institución pública grande del medio oeste.
Comments
This accepted article is published as Myers, M.J. The classroom, the campus, and beyond: Using Twitter to connect in #Latinxstudies courses. Lat Stud 17, 257–268 (2019). https://doi.org/10.1057/s41276-019-00175-1. Posted with permission.
Collections