The effects of website quality on customer satisfaction, use intention, and purchase intention: A comparison among three types of booking channels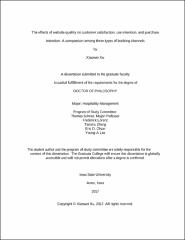 Altmetrics
Department
Apparel, Events and Hospitality Management
Abstract
There is no doubt that hotel distribution has changed dramatically since the advent of the Internet. Online travel agencies' (OTAs) and hotel websites have risen to reach a broader range of customers to generate more revenue. The latest in a series of disruptive innovations brought by the Internet, is the sharing economy business. This new wave of peer-to-peer businesses allow customers to make money from underused assets. In the hospitality industry, Airbnb is the best-known example of this phenomenon.
The proliferation of online accommodation booking websites has created the need for measurement criteria to evaluate the quality of website. It is important for hoteliers, hosts, and website designers to understand and compare what components comprise website quality and how website quality influences customers' purchase intention across three types of booking channels: OTA websites, hotel branded websites, and hospitality sharing economy platforms (HSEPs). This study identified what constituted website quality by regressing the perceived ease-of-use, information quality, privacy risk, and website aesthetics against overall website quality. This study also proposed a purchase intention model by adding customer satisfaction and use intention as two mediating variables.
Results from 973 online survey responses revealed the conceptualization of website quality varied across three types of booking websites and highlighted the importance of website aesthetics. It was suggested OTA website quality was assessed based on customers' experience in the information search process, while hotel website quality was evaluated with a focus on the technical adequacy. In the HSEP setting, it was noted that aesthetics was viewed as high-quality. Additionally, this study confirmed the inter-relationships among website quality, customer satisfaction and purchase intention, and mapped the customers' search-purchase relationships in an online context. The mediating effects of customer satisfaction and use intention were also detected.
The contribution of this research is both academic and practical. First, given the rapid growth of sharing economy platforms, this research is among the first studies to investigate the impact of website quality on customers' intention to purchase on the HSEPs; and provides new insights in understanding this niche segment from customers' perspectives. Second, this study expands upon the current website quality measurements body of knowledge in a more accurate manner by assessing measurement invariance and regressing overall website quality against each proposed website quality dimension across three booking channels. The third contribution of study is through the inclusion of two types of behavioral intentions (use intention and purchase intention) and the examination of the relationship between these two constructs, which suggest the diminished value of the billboard effect. Lastly, this study helps hospitality industry practitioners better position their own websites by revealing and comparing the influential factors that determine online accommodation bookers' perceptions towards three types of booking channels.
Subject Categories
Copyright
Sun Jan 01 00:00:00 UTC 2017
Collections