A Computational Framework for Transmission Risk Assessment of Aerosolized Particles in Classrooms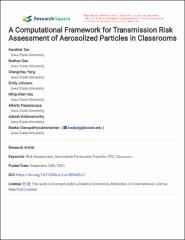 Publisher
Springer-Verlag London Ltd.
Department
Electrical and Computer Engineering
Mechanical Engineering
Abstract
The ongoing COVID-19 pandemic has rendered confined spaces as high-risk areas. There is an increasing push to resume in-person activities, for instance, teaching in K-12 and university settings. It becomes important to evaluate the risk of airborne disease transmission while accounting for the physical presence of humans, furniture, and electronic equipment, as well as ventilation. Here, we present a computational framework based on detailed flow physics simulations that allows straightforward evaluation of various seating and operating scenarios to identify risk factors and assess the effectiveness of various mitigation strategies. These scenarios include seating arrangement changes, presence/absence of computer screens, ventilation rate changes, and presence/absence of mask-wearing. This approach democratizes risk assessment by automating a key bottleneck in simulation-based analysis--creating an adequately refined mesh around multiple complex geometries. Not surprisingly, we find that wearing masks (with at least 74% inward protection efficiency) significantly reduced transmission risk against unmasked and infected individuals. The availability of such an analysis approach will allow education administrators, government officials (courthouses, police stations), and hospital administrators to make informed decisions on seating arrangements and operating procedures.
Comments
This version of the article has been accepted for publication, after peer review (when applicable) and is subject to Springer Nature's AM terms of use, but is not the Version of Record and does not reflect post-acceptance improvements, or any corrections. The Version of Record is available online at DOI: 10.1007/s00366-022-01773-9. Copyright 2023 The Author(s). Posted with permission.
Keywords
Risk Assessment

,
Aerosolized Particulate Transfer

,
CFD

,
Classroom
Collections