Odor and Chemical Emissions from Dairy and Swine Facilities: Part 1—Project Overview and Collection Methods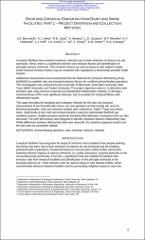 Department
Agricultural and Biosystems Engineering
Abstract
Livestock facilities have received numerous criticisms due to their emissions of odorous air and chemicals. Hence, there is a significant need for odor emission factors and identification of principle odorous chemicals. Odor emission factors are used as inputs to odor setback models, while chemical emission factors may be compared with regulations to demonstrate possible health impacts.
Additional measurements were incorporated into the National Air Emissions Monitoring Study (NAEMS) to establish odor and chemical emission factors for confined animal feeding operations. This investigation was conducted by the University of Minnesota, Iowa State University, West Texas A&M University, and Purdue University. The project objectives were to: 1) determine odor emission rates using common protocols and standardized olfactometry methods, 2) develop a chemical library of the most significant odorants, and 3) correlate the chemical library with olfactometry results.
This paper describes the sampling and evaluation methods for the odor and chemical measurements at two freestall dairy farms, one sow (gestation and farrowing) site, and one finishing pig facility. Odor and chemical samples were collected in Tedlar™ bags and sorbent tubes, respectively at barn inlet and exhaust locations using the sophisticated NAEMS gas sampling systems. Quality assurance protocols including inter-laboratory comparison tests are also discussed. The inter-lab sessions were designed to identify variations between olfactometry labs. While differences between olfactometry labs were observed, the variations appeared random and the odor data are considered reliable.
Comments
This proceeding is from International Symposium on Air Quality & Manure Management for Agriculture CD-Rom Proceedings (13–16 September 2010, Double Tree Hotel, Dallas Texas) St. Joseph, Michigan: ASABE, 13 September 2010. ASAE Pub #711P0510cd.
Subject Categories
Copyright
Fri Jan 01 00:00:00 UTC 2010
Collections