Addressing wicked problems in practical ways: Empowering ethical action in higher ed and beyond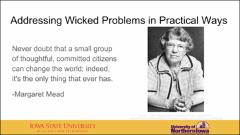 Supplemental Files
Department
Reference and Instruction
University Library
Abstract
Session Outcomes:
● Participants will be able to identify areas related to social responsibility
● Participants will develop an understanding of how to best approach systemic issues and take concrete action in collaboration with key allies
Comments
This presentation can be cited as Stone, C.B., & Gruber, A.M. (2017, September). Addressing wicked problems in practical ways: Empowering ethical action in higher ed and beyond. Presented at the 3rd Biennial Cedar Valley Conference on Ethics: Ethics and Social Responsibility, Cedar Falls, IA.
Subject Categories
Copyright
Sun Jan 01 00:00:00 UTC 2017
Collections