Enhancing a Residential Safety Course with the Development of an Online Component: A Limited Case Study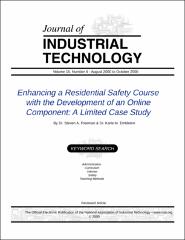 Department
Agricultural and Biosystems Engineering
Abstract
The Internet, and in particular the worldwide web, is changing the way in which education is delivered. Virtually every university and college across North America is now on the web (Saba, 1998). In fact, some universities are questioning whether it makes sense to differentiate between residential instruction and instruction at a distance (Boettcher, 1998). Experts in instructional technology predict that in the 21 st century the Internet, or one of its descendants, will become the dominant distribution system for distance education and training across much of the industrialized world (Simonson et al., 1999).
Many faculty are currently expanding their traditional delivery methods (lecture, laboratory, face-to-face discussion) to include educational options ranging from web-based course supplements to the complete delivery of courses online. There are many online choices that faculty may consider in this range. This manuscript describes a case study of implementing a web-based component to supplement the traditional face-to-face instruction of a residential safety course.
Comments
The paper, "Enhancing a Residential Safety Course with the Development of an Online Component: A Limited Case Study (S.A. Freeman and K.M. Embleton), JIT/JTMAE 16, no. 4, August–October 2000" is a copyrighted publication of ATMAE. This paper has been republished with the authorization of ATMAE, and may be accessed directly from the JTMAE website at http://www.atmae.org/jit/Articles/freeman082200.pdf.
Subject Categories
Copyright
Sat Jan 01 00:00:00 UTC 2000
Collections