Can Strawberries be Harvested Mechanically?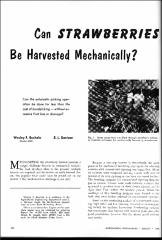 Department
Horticulture
Agricultural and Biosystems Engineering
Abstract
Mechanizing the strawberry harvest presents a unique challenge because in commercial varieties the fruit develops close to the ground, multiple harvests are required, and the berries are easily bruised. But yet, this popular fruit could soon be priced out of the market if this mechanization challenge is not met!
Comments
This article is published as Buchele, W. F., and E. L. Denisen. "Can strawberries be harvested mechanically?" Agricultural Engineering 49, no. 8 (1968): 456. Posted with permission.
Subject Categories
Copyright
Mon Jan 01 00:00:00 UTC 1968
Collections