Energy Use Analysis of Open-Curtain vs. Totally Enclosed Broiler Houses in Northwest Arkansas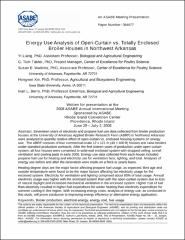 Department
Agricultural and Biosystems Engineering
Abstract
Seventeen years of electricity and propane fuel use data collected from broiler production houses at the University of Arkansas Applied Broiler Research Farm (ABRF) in Northwest Arkansas were analyzed to quantify relative effect of open-curtain vs. enclosed housing systems on energy use. The ABRF consists of four commercial-scale 12 x 121 m (40 × 400 ft) houses and raise broilers under standard production contracts. After the first sixteen years of production under open-curtain system, all four houses were converted to solid-wall enclosed system with dropped ceiling, tunnel ventilation and cooling pads in early 2006. Energy use data collected from each house included propane fuel use for heating and electricity use for ventilation fans, lighting, and total. Analyses of energy use before and after the renovation were made on a flock or yearly basis.
Heating degree days are the major factor affecting propane fuel usage, as expected. Bird age and outside temperature were found to be the major factors affecting fan electricity usage for the enclosed system. Electricity for ventilation and lighting comprised about 85% of total usage. Annual electricity usage was higher with the enclosed system than with the open-curtain system due to loss of natural daylight and increased mechanical ventilation in the enclosed system. Higher cost of fuel than electricity resulted in higher fuel expenditure for winter heating than electricity expenditure for summer cooling in this region. With increasing energy costs, analysis of energy use, as conducted in this study, will prove conducive to improving energy efficiency or alternative energy application.
Comments
This is an ASABE Meeting Presentation, Paper No. 084077.
Subject Categories
Copyright
Tue Jan 01 00:00:00 UTC 2008
Collections