Pond Culture of Walleye Fingerlings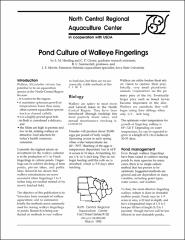 Department
North Central Regional Aquaculture Center
Abstract
Walleye, Stitzostedion vitreum, has potential to be an aquaculture species in the North Central Region because:
it is native to the region;
it maintains optimum growth at temperatures lower than many other current aquaculture species (such as channel catfish);
it is a highly-prized sport fish;
its flesh is considered a delicacy; and
the fillets are high in protein and . low in fat, making walleye an attractive food selection for today's health conscious consumer.
Comments
This article is from the NCRAC Fact Sheet Series #102. Used with permission.
Subject Categories
Copyright
Wed Jan 01 00:00:00 UTC 1992
Collections