Retrospective evaluation of the safety and tolerability of pimobendan in cats with obstructive vs nonobstructive cardiomyopathy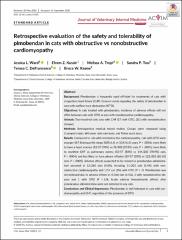 Department
Veterinary Clinical Sciences
Abstract
Background Pimobendan is frequently used off‐label for treatments of cats with congestive heart failure (CHF). Concern exists regarding the safety of pimobendan in cats with outflow tract obstruction (OTO).
Objectives In cats treated with pimobendan, incidence of adverse effects will not differ between cats with OTO vs cats with nonobstructive cardiomyopathy.
Animals Two‐hundred sixty cats with CHF (57 with OTO, 203 with nonobstructive disease).
Methods Retrospective medical record review. Groups were compared using 2‐sample t‐tests, Wilcoxon rank‐sum tests, and Fisher exact tests.
Results Compared to cats with nonobstructive cardiomyopathy, cats with OTO were younger (8.9 [interquartile range (IQR) 6.6] vs 10.8 [6.3] years, P = .0036), more likely to have a heart murmur (51/57 [90%] vs 76/203 [37.8%] cats, P < .0001), more likely to manifest CHF as pulmonary edema (53/57 [83%] vs 144/203 [70.9%] cats, P = .0004), and less likely to have pleural effusion (19/57 [33%] vs 122/203 [60.1%] cats, P = .0005). Adverse effects suspected to be related to pimobendan administration occurred in 12/260 cats (4.6%), including 11/203 cats (5.4%) with nonobstructive cardiomyopathy and 1/57 cat (2%) with OTO (P = .7). Pimobendan was discontinued due to adverse effects in 4/260 cats (1.5%), 3 with nonobstructive disease and 1 with OTO (P = 1.0). Acute adverse hemodynamic effects after pimobendan administration were not detected in any cats.
Conclusions and Clinical Importance Pimobendan is well tolerated in cats with cardiomyopathy and CHF, regardless of the presence of OTO.
Comments
This is the published version of the following article: Ward, Jessica L., Efrem Z. Kussin, Melissa A. Tropf, Sandra P. Tou, Teresa C. DeFrancesco, and Bruce W. Keene. "Retrospective evaluation of the safety and tolerability of pimobendan in cats with obstructive vs nonobstructive cardiomyopathy." Journal of Veterinary Internal Medicine. DOI: 10.1111/jvim.15920. Posted with permission.
Subject Categories
Copyright
Wed Jan 01 00:00:00 UTC 2020
Collections