Fashion and Sustainability: Increasing Knowledge About Slow Fashion Through an Educational Module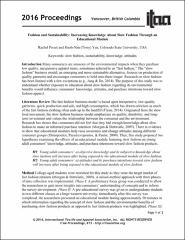 Series
International Textile and Apparel Association (ITAA) Annual Conference Proceedings
The first national meeting of textile and clothing professors took place in Madison, Wisconsin in June 1959. With a mission to advance excellence in education, scholarship and innovation, and their global applications, the International Textile and Apparel Association (ITAA) is a professional and educational association of scholars, educators, and students in the textile, apparel, and merchandising disciplines in higher education.
This site provides free, public access to the ITAA annual conference proceedings beginning in 2015. Previous proceedings can be found by following the "Additional ITAA Proceedings" link on the left sidebar of this page.
Abstract
The purpose of this study was to understand whether exposure to education about slow fashion regarding its environmental benefits would influence consumers' knowledge, attitudes, and purchase intentions toward slow fashion apparel. College-aged students were recruited for this study as they were the target market of fast fashion retailers. A mixed-method approach with three phases of data collection was implemented. A total of 163 participants participated in the study. Findings have suggested that a 30 minute educational module consisting of mostly text-based information with supplementary images made a significant, positive impact on young adult consumers' knowledge of and attitudes toward slow fashion. Unexpectedly, purchase intentions toward slow fashion among the participants did not increase. Financial restrictions experienced by university students could have minimized their purchase intentions toward slow fashion apparel which tends to be more expensive than fast fashion. Discussion and Implications are included.
Collections