Thunderbird - Sacred Bearer of Happiness Unlimited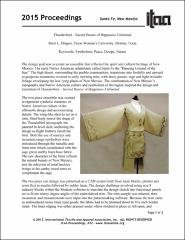 Series
International Textile and Apparel Association (ITAA) Annual Conference Proceedings
The first national meeting of textile and clothing professors took place in Madison, Wisconsin in June 1959. With a mission to advance excellence in education, scholarship and innovation, and their global applications, the International Textile and Apparel Association (ITAA) is a professional and educational association of scholars, educators, and students in the textile, apparel, and merchandising disciplines in higher education.
This site provides free, public access to the ITAA annual conference proceedings beginning in 2015. Previous proceedings can be found by following the "Additional ITAA Proceedings" link on the left sidebar of this page.
Abstract
The design goal was to create an ensemble that reflected the spirit and cultural heritage of New Mexico. The early Native American inhabitants called Santa Fe the "Dancing Ground of the Sun." The high desert, surrounding the pueblo communities, transitions into foothills and upward to gorgeous mountains covered in early morning mist, with dusty greens, sage and light lavender foliage enveloping the low lying plains of New Mexico. The combination of New Mexico's topography and Native American culture and symbolism of the region inspired the design and execution of Thunderbird – Sacred Bearer of Happiness Unlimited.
Subject Categories
Collections